An Exclusive Interview with 'Samara Bumba' known as Dazdore from The UK, Founder of 'KHAISA'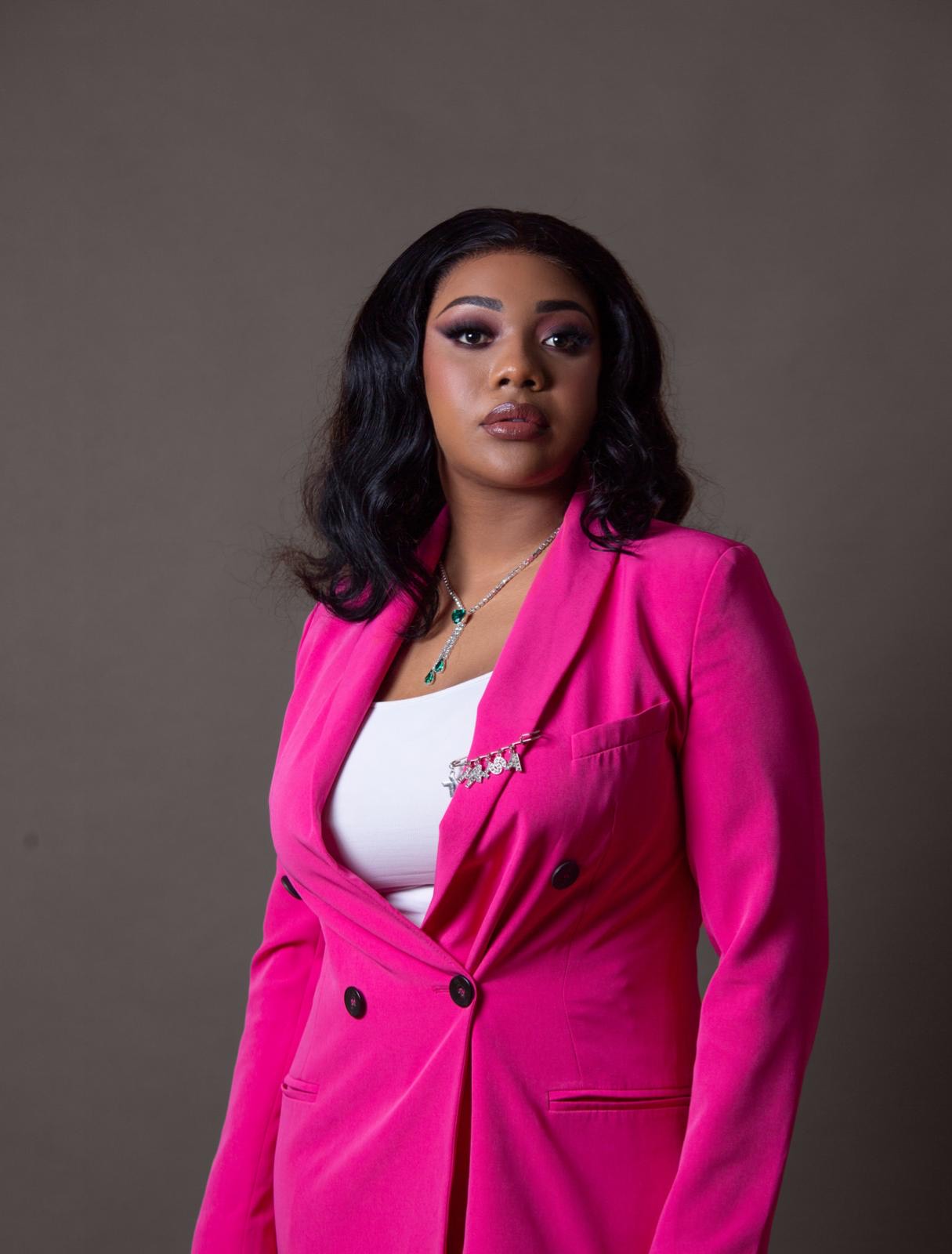 Q. Tell me about First your Jewellery brand?
I created my business to be classy on the budget. My idea of KHAISA was to be a sophisticated and unique brand that female would wear it and automatically feel sexier and more beautiful.
KHAISA was designed to be an accessory to boost customers' looks and appearance.
Q. How did you come up with your business idea?
I always been interested on fashion and during COVID, like everybody else I was worried and stressed.
I needed something to keep me busy and at the same time make me productive. Out of the blue I came up with the idea of creating my own jewellery brand because at that time I thought would be something that I could easily afford.
Q. What were you doing before this, and is this your first business?
I am a graduate and post graduate in Petroleum Engineering but I have never felt that it was my calling or something that I wanted to do for the rest of my life.
Doing my degree I always felt incomplete as if something was missing but I end up doing it because I didn't want that to leave it unfinished.
During my UNI days I used to sell clothes back home in Angola whenever I went on holidays. Also, because people knew I know and love fashion they would hire me to be their personal shopper and help them with their overall shopping.
Q. Did you operate your business from your ONLINE shop?
I also had an Instagram page back in 2014 where I used to connect with customers and show them the stock I had at the moment.
It was a bit similar from my current page but it wasn't professional at this level but it helped me quite a lot at that time. Because I managed to raise a good money.
Q. What were the challenges and benefits to this strategy?
Starting your own brand is always a challenge wether budget, manufacturing, connections, packaging, building relationships, marketing and advertising .
The business needs space and time to grow as a business. Some brands when they start they already know their niche but sometimes you start building a brand, you know what product you want to sell or offer but you don't have a clear picture or idea of it.
But people need to understand that this is normal. You don't have to compare yourself to anyone, you just need to do your best, understand your vision and keep moving forward.
Q. How has your experience in running the business been different from what you expected?
My business thought me a lot. But mainly having patience and faith and also being focus and determined on my goals.
I know it is easy to say. Sometimes problems might come and you need to quickly solve them or even some changes might occur and you, specially and a founder you need to be open minded and flexible to adjust.
I also learned that the business is always changing. Because people are different and keep changing what they want according to what is in fashion at that time. Your response and a fashion brand owner needs to act fast to satisfy your customers otherwise you can loose customers and reduce your sales because your products are not what people are looking for.
Q. What advice would you give to somebody else who wanted to start an online retail business?
My first advice is to tell them to "START" they business because one can grow so much just by starting the business.
You need to start your business as soon as you have a budget and a clear picture of what you want to sell. Most things we adjust along the way but it is good to go through some struggles and frustrations because it will make you stronger as a person and as a brand owner.
When you understand that problems or uncomfortable situations are normal in business nothing can stop you from going where you are destined to be.
In conclusion, it is alright if you don't have everything figure out. Allow yourself to evolve and your business is growing and progressing. Keep delivering a good work, find an honest team or people to help you and learn how to differ positive criticism and hate from people that want to see you win.
Unimat Traffic Introduces Innovative Speed Bump Solutions Redefining Traffic Calming Standards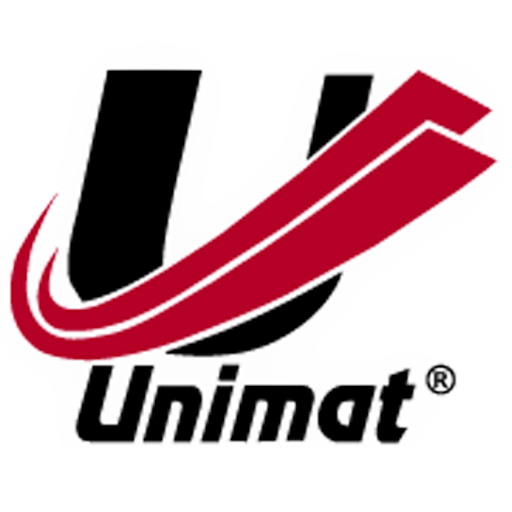 Unimat Traffic, a pioneer in traffic management solutions, is proud to announce the launch of its advanced speed bump solutions, setting a new benchmark for traffic calming measures. These state-of-the-art speed bumps are designed to enhance road safety by effectively slowing down vehicles while prioritizing a smoother driving experience.
Key Features of Unimat Traffic's Innovative Speed Bumps:
Dynamic Impact Absorption:
Unimat Traffic's speed bumps feature dynamic impact absorption technology, ensuring a gradual and controlled reduction in vehicle speed. This innovative design minimizes discomfort to drivers and passengers while effectively achieving the desired traffic calming effect.
Environmentally Friendly Materials:
Committed to sustainability, Unimat Traffic utilizes environmentally friendly materials in the manufacturing of its speed bumps. This not only aligns with the company's green initiatives but also ensures that the products are resilient to environmental factors, contributing to a longer lifespan.
Low-Profile Design for Smooth Driving:
The low-profile design of Unimat Traffic's speed bumps prioritizes a smooth driving experience, reducing the potential for vehicle damage or discomfort. This design choice makes these speed bumps suitable for various traffic environments, including residential areas, school zones, and commercial districts.
High Visibility and Reflectivity:
To enhance visibility, especially during low-light conditions, Unimat Traffic integrates high-visibility markings and reflective materials into the speed bump design. This feature ensures that drivers can easily identify and respond to the presence of speed bumps, promoting safer driving practices.
Easy Installation and Maintenance:
Unimat Traffic's speed bumps are engineered for straightforward installation and minimal maintenance. This user-friendly approach makes them an ideal choice for municipalities, property managers, and businesses seeking efficient and hassle-free traffic calming solutions.
Unimat Traffic's CEO, Masaru Ceja, emphasized the company's commitment to innovation and safety, stating, "Our innovative speed bump solutions are a testament to our dedication to creating safer road environments. We believe these products will have a positive impact on traffic management strategies, benefitting communities and businesses alike."
For more information about Unimat Traffic's cutting-edge speed bump solutions and other traffic management products, please visit unimat-traffic.com.
About Unimat Traffic:
Unimat Traffic is a leading provider of advanced solutions for traffic management, committed to enhancing road safety and optimizing traffic flow. With a focus on innovation and sustainability, Unimat Traffic develops and delivers state-of-the-art products that address the evolving challenges of modern transportation.
Unimat Traffic Unveils Next-Generation Speed Bumps for Enhanced Traffic Safety
Unimat Traffic, a trailblazer in traffic management solutions, proudly introduces its latest innovation in road safety – the next-generation speed bumps. These cutting-edge speed control devices are designed to enhance driver awareness, reduce vehicle speeds, and contribute to overall road safety.
Key Features of Unimat Traffic's Next-Generation Speed Bumps:
Smart Speed Reduction Technology:
Unimat Traffic's speed bumps incorporate smart technology to ensure effective speed reduction without causing discomfort to drivers. The design optimally balances the need for speed control with a smooth driving experience.
Durable and Weather-Resistant Materials:
Built to withstand diverse weather conditions, Unimat Traffic's speed bumps are constructed from durable materials that maintain their integrity over time. This ensures longevity and reliability, even in challenging environments.
High Visibility Design:
Featuring high-visibility markings and reflective materials, these speed bumps enhance visibility during both day and night, alerting drivers to slow down and navigate with caution. This contributes to a safer driving environment, especially in low-light conditions.
Easy Installation and Maintenance:
Unimat Traffic prioritizes user-friendly solutions. The speed bumps are designed for easy installation and minimal maintenance, making them a practical choice for municipalities, businesses, and other entities seeking efficient traffic calming measures.
Customizable Options:
Recognizing the unique needs of different locations, Unimat Traffic offers customizable options for its speed bumps. Clients can choose from various sizes, colors, and configurations to tailor the speed control solution to their specific requirements.
Unimat Traffic's commitment to advancing road safety is evident in the development of these next-generation speed bumps. [CEO NAME], CEO of Unimat Traffic, stated, "Our new speed bumps reflect our dedication to innovation and safety in traffic management. We believe these products will play a pivotal role in creating safer road environments for communities and businesses alike."
For more information about Unimat Traffic's next-generation speed bumps and other traffic management solutions, please visit unimat-traffic.com.
About Unimat Traffic:
Unimat Traffic is a leading provider of cutting-edge solutions for traffic management, committed to enhancing road safety and optimizing traffic flow. With a focus on innovation and sustainability, Unimat Traffic develops and delivers state-of-the-art products that address the evolving challenges of modern transportation.
Rahul Thakur is The Man behind the Rise of The Fortune Machine: How Investors are Making Huge Profits with the iFortune Coin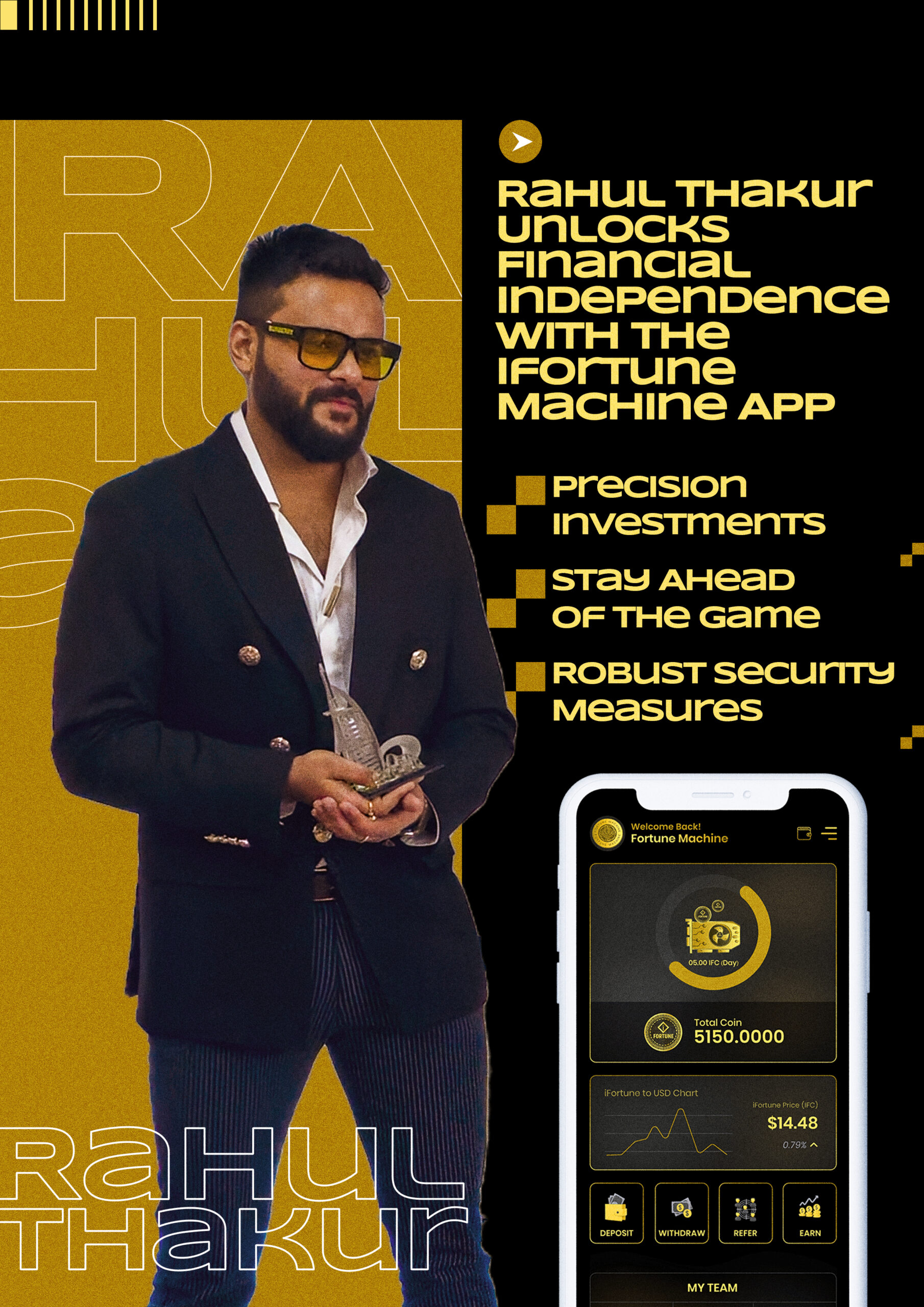 The Journey of Fortune Machine App and iFortune Coin to the Top of the Crypto World
Cryptocurrency has recently become an increasingly popular investment option, with new coins and apps launching daily. Unfortunately, not all of these projects are equal. Possibly the most exciting is the iFortune coin, a cryptocurrency designed to function smoothly while also being a smart investment option for those looking to improve their lives in eye-opening ways. A big part of the token's appeal is the Fortune Machine app, a revolutionary staking and mining app allowing iFortune coin investors to earn significant passive income.
This article will explore the app, the token, and the community's appeal.
The Fortune Machine app provides users with staking and mining facilities for iFortune coin, making it easy for beginners to earn rewards. The app has gained significant attention in crypto due to its high staking and mining rewards.
More than 100 people reportedly earn over 100k a month on the platform.
To celebrate the app's success, the founders have even taken target achievers on international tours to Thailand, Dubai, and Goa, India, showcasing the app's potential for making investors huge profits.
How the Fortune Machine App is Changing the Game for iFortune Coin Investors
The Fortune Machine app has revolutionized the staking and mining game, providing a unique investment option for iFortune coin investors to mine and stake the token without the investment associated with mining and staking other cryptocurrencies.
The app's developers have focused on providing a user-friendly interface, which, combined with high staking and mining rewards, has made it an attractive investment option for everyday people and seasoned investors.
The Fortune Machine is an app for iOS and Android devices. Using it to stake and mine only requires a few minutes daily, illustrating the big difference Destinewood delivers in their ecosystem: with the right crypto-token backed by the latest tools, investors can earn significant profits without deep knowledge or hard work.
This powerful dynamic has skyrocketed the Fortune Machine app as a significant emerging player in the crypto world, providing a high-reward investment option for iFortune coin investors. The app's unique features have allowed more than 100 people to earn over 100k monthly on the platform, which is life-changing money for anyone – especially with many of these people coming from the regular working class and even financially challenged backgrounds not long ago.
The app has also garnered attention for its stability. It works well without any technical headaches, something that has plagued many other crypto-related applications.
Celebrating Success With iFortune's Founders
To celebrate the Fortune Machine's success in transforming lives and show appreciation for its investors, the founders of Destinewood Ltd, Rahul Thakur and Wendy Winterburn, have organized three international tours to Thailand, Dubai, and Goa, India. Each tour provided 100 target achievers with an opportunity to connect, enjoy themselves, and see that their lives are now operating at a whole new level.
Thailand, the first destination, is known for its beautiful beaches, exotic cuisine, and vibrant nightlife. The target achievers were treated to a luxurious stay at a resort. They enjoyed spa treatments, explored the local culture, and networked with the iFortune community, culminating in a world-class party.
Dubai, the second destination, is famous for its lavish lifestyle, skyscrapers, and luxury shopping. The target achievers were taken on a five-day trip where they enjoyed the desert kingdom, which is a stunning mix of the past and future, where intelligent economic opportunities are embraced completely.
The final destination, Goa, India, is a popular tourist spot known for its beaches, seafood, and nightlife. The target achievers were taken on a five-day trip where they enjoyed a beach party, dined like kings and queens, and had a farewell party.
Overall, the international tours provided a unique opportunity for investors to network and celebrate their success while enjoying luxurious accommodations and exciting activities in exotic destinations. The tours were a testament to Fortune Machine's growing success and the founders' commitment to changing lives and building community.
Rahul Thakur and Wendy Winterburn have often spoken about their mission to change lives. The ongoing events like this show they practice what they preach.
iFortune Coin – An Investment Option with High Staking Rewards
iFortune coin is a BEP-20 token created on Binance Smart Chain, designed by Destinewood Ltd. To be at the cutting edge of crypto tech, opening the door to vast opportunities for growth and prosperity. The token was founded in early 2022 and has since gained popularity among investors due to its potential for good returns and long life as more enthusiasts jump on board.
The token is currently available on the LA Token Exchange and LBank Exchange and has been covered by every major cryptocurrency and blockchain news outlet.
One of the critical features of the iFortune coin is its high staking rewards. Investors can stake their tokens on the Fortune Machine app and earn rewards. These rewards are higher than those offered by most others in the industry while also having less risk due to the company's infrastructure and mission. This makes the iFortune token an attractive investment choice both in the short and long term.
The iFortune Debit Card – A Convenient Way to Use iFortune Coins
The iFortune debit card is a convenient way for investors to use their iFortune coins. The card allows easy transfers of crypto to fiat currency, can be used internationally, and is easy for most people to be approved for.
The card aims to remove the middleman, making transactions less costly, faster, and more efficient. This is clearly playing into iFortune's rising popularity.
The iFortune debit card also takes security very seriously, with many safeguards in place to avoid theft and scams that have sometimes been associated with other debit cards in the crypto space.
The Fortune Machine: A Bright Present and Future
Fortune Machine app is a revolutionary staking and mining app that has allowed investors to earn significant passive income. The app's success in the crypto world has been shown in black-and-white results experienced by its investors. The founders have even celebrated this success by taking target achievers on international tours. The combination of the iFortune token and the Fortune Machine app is delivering investors high rewards, ease of use, and convenience, making it an attractive option for those who want to find a way to break free of their current financial and lifestyle limitations.
For more information and to read the iFortune Coin White Paper be sure to visit
Website- https://www.ifortunecoin.io
Telegram- https://t.me/ifortunecoin_officialgroup
.
The Sneaker CA: Hottest Sneaker Connoisseurs Out Of Toronto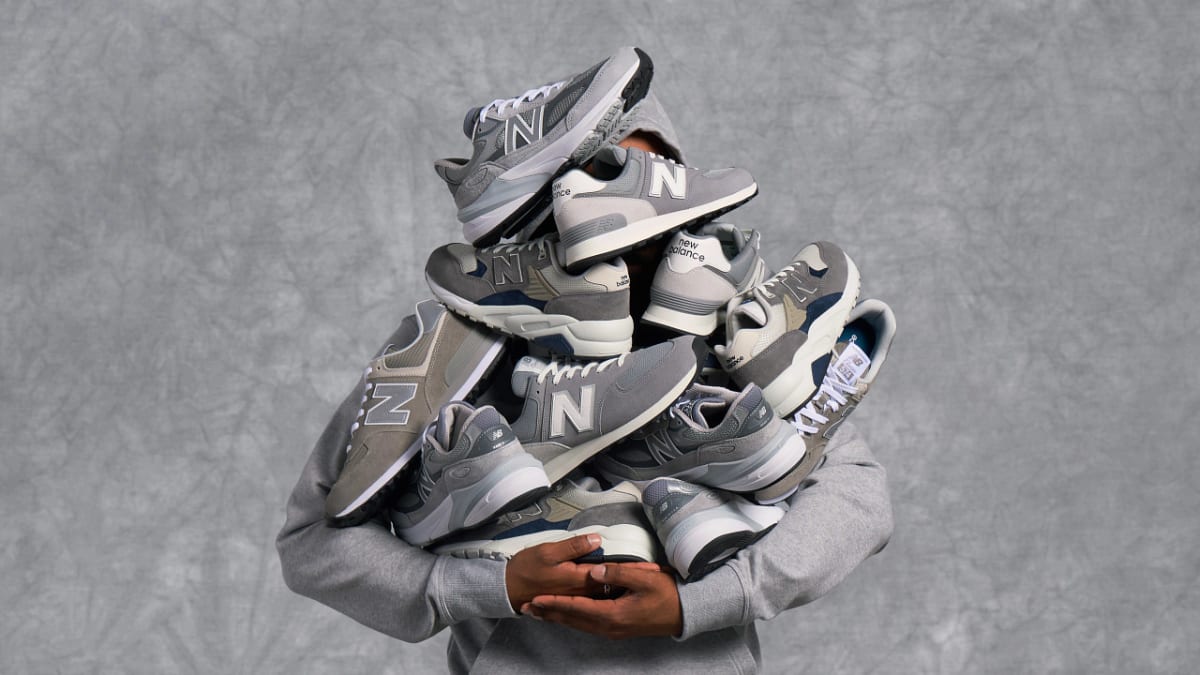 The Sneaker CA, originating in Toronto, Ontario, embarked on their digital journey in 2021, but their passion for sneakers and dedication to the sneaker culture began long before. Their growth from in-person meet-ups to a fully operational website was fueled by their love for sneakers and the desire to connect with like-minded individuals.
Despite being a small team, The Sneaker CA collaborates with fellow sneaker enthusiasts and creative minds to curate an impressive collection of authentic sneakers. They also handle all the logistics, including shipping, to ensure a seamless experience for their community members. The Sneaker CA caters to a diverse audience – from avid collectors to casual sneaker enthusiasts.
Currently, they offer sneakers, streetwear, and even their own line of shoelaces. But their commitment to providing exciting and genuine products never wavers; they are always on the lookout for new and noteworthy releases to keep their customers satisfied. Understanding that acquiring coveted sneakers can often be financially burdensome, The Sneaker CA offers payment plans through Klarna and Sezzle. By providing these options, they aim to make the sneaker game more accessible and budget-friendly.
Moreover, they take authenticity seriously, using their expertise to authenticate their inventory. In the unfortunate event of encountering counterfeit items, they prioritize customer satisfaction by offering refunds and hassle-free returns. The Sneaker CA prides itself on its strong sense of community. Their customer-centric approach is evident through their exceptional customer service and commitment to resolving any issues promptly.
They endeavor to build genuine connections rather than merely conducting transactions. When you engage with The Sneaker CA, you become a valued member of their fam – a testament to their dedication to fostering a real community within the sneaker world. In conclusion, The Sneaker CA stands out from its competitors thanks to its wholehearted dedication to its community.
Through their passion, commitment to customer service, and emphasis on authenticity, they have created a platform that allows sneaker enthusiasts to connect, create, and thrive. When you choose The Sneaker CA, you aren't just making a purchase; you are joining a community that shares your love for sneakers.